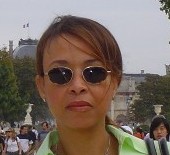 Martine was born in Port-Au-Prince, Haiti. She moved to the United States at the age of fourteen. She studied Fine Arts at the university of Tampa, and graduated with a bachelor's degree at the university of south Florida. Until 2008, all of her works were painted on canvas. From 2008 until 2019, she used primarily acrylic and collage on paper to achieve her Art, Fashion and Characters books.
Art
Style: Haitian Contemporary. Fluid. With a drop too much or too little.
Everything is an extension of something. A dot or a line does not exist alone. A traced line is a path. The path is an adaptation of a previous path, that continues to form its own path. The extension can be branded and becomes an infinite movement. The dot is always an original. It can move in any direction without a set destination. "As long as a dot exists, a shadow will follow. A dot is the foundation of a line; the birth of a path." MPL. 2003.
Art for Fashion
I am trying to create a movement in the area of art and fashion. The line dividing the two has long been disputed. The world of art does not like to consider fashion as one of its own, but the world of fashion is enamored with art and constantly invites the marriage of the two. I would like to cut that dividing line and give birth to a movement called "Fashion Art."
Fashion Art is defined as art created exclusively for the benefit of fashion. It does not go on a canvas first and later be ripped into pieces and plastered on to a dress, a piece of fabric, a shirt or something else. Instead, it comes first as fashion that is a "Work of Art."
Fashion Art is made of acrylic and collage on paper. I used a series of hand cut paper, carefully assembled into a type of puzzle, to create each design. The hand cut paper varies in shape and size. Each design will have hundreds, if not thousands of cut paper.
Fashion Art is the search for a perfect line. A line that moves in a comfortable direction and has a sense of path.
Characters
The characters were inspired by Fashion Art. I used the same concept to sharpen the edges of my subjects. Most of the characters were born in 2013. Designing them was completely spontaneous and the most fun I had in years. The designs are made of acrylic and collage on paper.
A few of the characters changed genders and species a few times before settling in their own skin. For example, Grand Nini duck was supposed to be a Grand mother. Because her legs were too far apart, she became a duck.
Art Fashion and Characters
Art, fashion and characters is the work of one artist, Martine Pierre-Louis. Before and after graduating from college, I painted on canvas. My subject matter was Haitian and my style was naive. I left Haiti a long time ago. My style continues to evolve to reflect my true and honest frame of mind.
The majority of the works I've done did not require any preparation. My work is spontaneous. My mood is the determining factor.
In 2008, I started experimenting with collage on paper. I was searching for something new that would be challenging and exciting. I decided to take a look at an area I knew very little of...fashion. I followed some designers like Alexander McQueen. I came up with the idea to use a paper line to sketch the canvas and get rid of my pencils. This concept led me to the most powerful and distressed lines I have ever encountered. Fashion Art is the result of a distressed line.
The characters followed in 2012-2013. The more outrageous the lines, the funnier the characters.
Sales Information
Art for Fashion is a design catalog of two hundred and nine color pages. All the designs are original works of art, made of acrylic and collage on paper.
Inside the catalog you will find:
• Original prints - Textile - Home decorating - Clothing.
• Original shoe designs - Retail manufacturing.
• Original handbag designs - Retail manufacturing.
• Original characters in their own catalog - Animation - Publishing.
• Original pieces of clothing - Retail manufacturing.
• Original pieces of jewelry - Retail manufacturing.
• Endless signs and symbols for companies seeking original logos.
All fashion items are designed as art, for the purpose of the "Art for Fashion" movement.
The Art for Fashion catalog is a wealth of ideas for the art industry, the publishing industry, the fashion industry (specially for anyone seeking to start a new fashion brand) and the home decorating industry.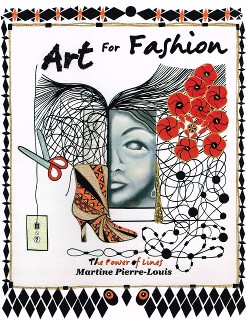 For sales and licensing agreements inquiries or to request a catalog, please fill out a request information form on the contact page.

Copyrights c Martine Pierre-Louis, 2019. All rights reserved