ArtFashionandCharacters.com
All My Favorite Friends
All my favorite friends is a children's book that introduces seventy characters. The characters are sweet, funny, witty and sometimes devious. They come from different parts of the world and they love the diversity.
Meet Grand Nini. She is the prize winner of "The World's Most Sought Out Ducks." She is confident and beautiful. Wherever she goes, she is followed by a colony of ducks. She is a kind of Angelina Jolie in the "Duck World."
Meet Ti L'Ours, creole name for Little Bear. His mother was captured at sea by pirates, on her way to the United States. Now, everyone wants to adopt him.
Meet Koomby. He is a little boy with a lollipop nose. Koomby is part of "The Boys Club." A group of four friends who go to the same school. They get in all kinds of trouble and love to brag about it.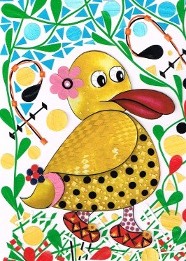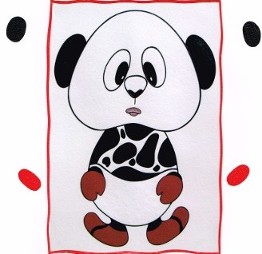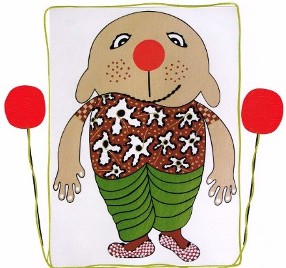 Grand Nini Ti L'Ours Koomby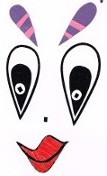 Prince Charming (left) and The Parisian Pom-poms Deer (right), are having a blast on their way to the park. How will this one day adventure end? Prince Charming is looking to hook up with Princess Charming. But, Pom-poms Deer has another idea. She wants Prince Charming all to herself and she is not willing to share. Prince Charming just found out Pom-poms' romantic intention. He feels a bit embarrassed.






| | |
| --- | --- |
| Donnie: "You are my woman." | Nono: "Not so fast, Lover Boy." |
Donnie and Noel are best friends. They have known each other since they were babies. Lately, Donnie is having romantic feelings for Noel, and he wants to take her out on a date. Noel said no. She likes their friendship just the way it is. Donnie wants a girlfriend. After getting a million rejections from Noel, Donnie decides to nickname her "Nono."
| | |
| --- | --- |
| | |





The Moody Schups
The Moody Schups are cute, little seashells. They live in shallow waters, very close to the shore. On sunny days, they'll come out of the water and drag their fat, little bodies on dry sand. It's a way to emerge from their shell for a few hours and scratch their skin.
Lately, the Moody Schups have been having problems with people picking them up and cuddling them on the beach. The Moody Schups do not like to cuddle. They get annoyed by it. They will pout their lips in a sign of protest and emit a soft, screeching noise that sounds like a prolonged, annoying kiss.
This particular group of four is part of a rap band. They were performing at a party the night before and barely had any sleep. They're coming out in the sun for a boost of energy and some quiet time. They do not want to be disturbed.
From top, left: Pinky Fluff, Jimbro, Supbro and Rapopo.












Frogo: "Kids, let's keep this on the down low."

Bobby: "It's gonna be huge!"

Frogo Jr.: "We're going in!"
Frogo and His Sons
Frogo is the president of the Tennis Association for the Benefit of Healthy Frogs. Frogo is a husband, a father of two sons, a community leader, a tennis champion and a stud muffin. Earlier this year, Frogo was named Frog's Magazine Sexiest Frog Alive. Frogo is grateful for all the attention.
Since 2010, Frogo has been building tennis courts all over the country. His mission is to have frogs everywhere participate in tennis tournaments.
There is a major problem with Frogo's mission. All the tennis courts were built illegally, in people's backyards, without the consent of the homeowners.
The National Police Department received several complaints on this issue and they are on the lookout for Frogo and his construction team. Frogo has no fear. He is thinking: one day, Frog Wimbledon Baby!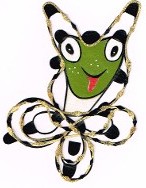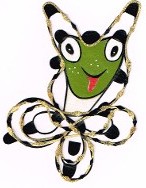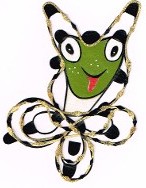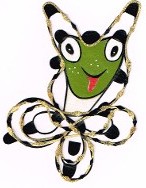 Miss Shili: "Ha-ha! Do it again Ogi.

I love when you sound like a dog."
Willi: "Why are you howling? We are not dogs, we are Crab Dogs."
The Crab Dogs
The crab dogs are a mixture of crabs and dogs. They live either on dry land or in the ocean. The crab dogs are playful creatures. They like to kid around and run after things. On occasion, they'll howl like dogs to test their vocal cords.
The crab dogs have a bit of an identity crisis. They don't know if they are crabs or dogs. They don't quite understand how the mixture works.
| | |
| --- | --- |
| Sandy: "What's up with the crabs?" | Crabi: "They think they are dogs..." |
| | |
| --- | --- |
| | |














From left to right, Gibou: "Are you my best friend?" Big Po: "I think so, but I can't remember where we met."
| | |
| --- | --- |
| | |
From left to right, Colette. Maryam: "Cake!" Jerry: "I want to eat the cake on your head."









From left to right, Diaper Poupsy: "Yeah yeah! I am five and I still wear a diaper...don't you?" Mommy Poupsy: "Um mm...?"








From left to right, Leepy: "I am going back to bed." Tudor: "Come on man, I haven't been out for a walk in a week." Soccer Man's advice: "Just go outside and play with your friends and your dog. Life is too short. There will be plenty of time for napping. Play soccer."






From left to right, Rodeo Duck and Eloise De La Fleur.
From left to right, Kiki and Lucy, waiving at her granny.
From left to right, the Furpoof, Bototo and Soori.
Kiki and Lucy are hanging out in the sun today. The weather is nice and the birds are flying high and low. Kiki likes to stand on her skateboard and Lucy just runs around, waving at her granny.
Bototo and Soori are watching at a distance. They are from the Furpoof species. They come from Idaho. The Furpoofs are a bunch of activists who fight for the preservation of flower fields. Today, they are on their way to Washington for a visit with the president. Will the president take them seriously? I doubt it... since they are so cute.
From left to right, the Caribbean Caterpillar, Michu: "Kamo, you should cut the grass and fix the roof today." Kamo: "No woman! We are going to hang out on the beach and eat some bugs."
From left to right, Respect the Intellectual Property and Joan, the last hippie.
From left to right, Relaxation and Multitasking.
Joan and Intellectual Property are unlikely friends. Joan is a fun girl. She loves to party. She dresses impeccably and behaves like a hippie. Intellectual Property is a man of the law. He is a scholar. He spends his days studying the law and the ways to enforce it. Intellectual Property hates the notion of fun. He thinks all fun should be abolish and be replaced by serious matters.
Today, Joan is riding on the relaxation bandwagon, and Intellectual Property is multitasking. They are joining forces in an attempt to bring a balance between seriousness and fun.
Meet the Great Chucks from the Bisou family. From left to right, Chuck the I and Chuck the II. They are advocates for all things related to love.
| | |
| --- | --- |
| From left to right, Bibi, the weather girl and Balance and Tranquility. | |
Thank you for visiting! I'll see you again soon.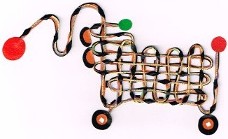 Happy Shopping Cart
Copyrights C Martine Pierre-Louis, 2019. All rights reserved.